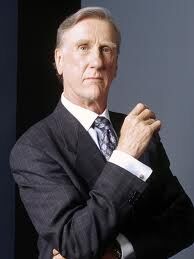 Donald Moffat (born 26 December 1930) is an English actor. He played Rem the android in the Logan's Run television series.
Biography
Moffat was born in Plymouth, Devon, the only child of Kathleen Mary (née Smith) and Walter George Moffat, who was an insurance agent. His parents ran a boarding house in Totnes. Completing his studies at the local King Edward VI School and national service in the Army, Moffat trained at the Royal Academy of Dramatic Art in London.
Career
Moffat began his career as a stage actor in London and New York. His first work was at the Old Vic Theatre Company in London. He joined APA (The Association of Producing Artists), a repertory company on Broadway, and was nominated for a Tony for Best Actor in a Play in 1967 for his roles in revivals of Henrik Ibsen's The Wild Duck and Pirandello's Right You Are If You Think You Are. He was nominated for the Drama Desk Award for Outstanding Featured Actor in the revival of Eugene O'Neill's The Iceman Cometh (1986) with Jason Robards. He won an Obie for Painting Churches. His best known film role is probably the corrupt U.S. President in Clear and Present Danger, as well as Garry, the station commander in The Thing. He has appeared on television in Logan's Run, The West Wing, Dr. Quinn, Medicine Woman and Tales of the City, in which his performance as dying executive Edgar Halcyon earned him many new fans. He has also appeared in many Broadway and off-Broadway plays, including the world premieres of John Guare's A Few Stout Individuals (as Ulysses S. Grant), Painting Churches, The Heiress, The Cherry Orchard, Much Ado About Nothing, The School for Scandal, The Affair, and Hamlet.