Jurassic World: Dominion Dominates Fandom Wikis - The Loop
Play Sound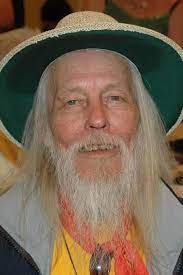 George Clayton Johnson (10 July 1929 - 25 December 2015) was an American science-fiction writer. He is most famous for co-writing the novel Logan's Run with William F Nolan, the basis for the 1976 film. He is also known for his work in television, writing screenplays for such noted series as The Twilight Zone, such as "Nothing in the Dark", "Kick the Can", "A Game of Pool" and "A Penny for Your Thoughts", and the first aired episode of the series Star Trek, "The Man Trap". He also wrote the story on which the 1960 and 2001 films Ocean's Eleven were based. He has appeared in numerous anthologies, by editors such as Dennis Etchison, Jason V Brock, and Christopher Conlon. He was proprietor of Cafe Frankenstein. The entire library of his work, including Logan's Run and Jessica's Run: A New Sequel to Logan's Run are represented on his behalf by Whitt Brantley Management and Talent.
Biography
Born in a barn in Cheyenne, Wyoming, he had to repeat the sixth grade and dropped out of school entirely in the eighth. He briefly served as a telegraph operator then draftsman in the United States Army, enrolled at the Alabama Polytechnic Institute (now Auburn University) under the G.I. Bill, quit to return to his travels around the U.S.A., working as an draftsman, before deciding he wanted to become a writer.
In 1960, the first story Johnson ever wrote served as the basis for the Rat Pack movie Ocean's 11, although most of the details were changed for the film. He joined a circle of Southern California science-fiction writers that included Theodore Sturgeon, William F. Nolan, Charles Beaumont, Richard Matheson and Ray Bradbury. Through them he met Rod Serling, to whom he sold his first story ("All of Us Are Dying", produced as "The Four of Us Are Dying") and, later, his first teleplay ("A Penny for Your Thoughts").
"For me, fantasy must be about something, otherwise it's foolishness... ultimately it must be about human beings, it must be about the human condition, it must be another look at infinity, it must be another way of seeing the paradox of existence."—George Clayton Johnson quoted in The Twilight Zone Companion
External Link