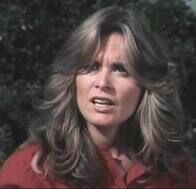 Heather Menzies Urich (3 December 1949 - 24 December 2017) is a Canadian-born actress. She played Jessica 6 in the Logan's Run television series.
Born in Toronto, she moved to California via Florida at the age of eleven, and enrolled at the Falcon Studio's University of the Arts, in Hollywood. Her first professional role at the age of thirteen was in My Three Sons. Directly after that, Urich auditioned for and won the role of Louisa Von Trapp in The Sound of Music. Urich again worked with Julie Andrews in the film Hawaii and, at sixteen, traveled across the country to star in the Broadway play We Have Always Lived in the Castle with Shirley Knight. The production opened at the National Theatre in Washington, D.C., and showed for a lengthy run at the Ethel Barrymore Theater in New York City.
Heather guest starred in several television series throughout the 1970s and '80s and did several television pilots and movies including Tail Gunner Joe with Peter Boyle and James Dean, and Portrait of a Friend with Stephen McHattie, Michael Brandon and Amy Irving. She starred in the popular cult favorite SSSSSSS with Strother Martin and Dirk Benedict, in the series Logan's Run with Gregory Harrison, and in the film Piranha with Bradford Dillman.
Heather met her husband, Robert Urich, while acting with him in a Libby's Corned Beef Hash commercial. Heather guest starred with Urich in S.W.A.T., Vega$ and Spenser For Hire, as well as many other television shows and a theatrical film, Endangered Species. The couple also co-starred in theatrical productions, including The Hasty Heart, a production at the Burt Reynold's Playhouse, in Jupiter, Florida. The play achieved substantial acclaim, including a run at the John F. Kennedy Center for the Performing Arts, in Washington, DC, with President and Mrs. Ronald Reagan in attendance. Menzies and Urich were married 27 years, until his death in 2002 from synovial sarcoma, a type of cancer. Heather also appeared in the nude pictorial "Tender Trapp" in the August 1973 issue of Playboy.
Heather was an ovarian cancer survivor and lived in Utah with her three adopted children, Ryan, Emily, and Allison. She also had two grandchildren, Michelle (born 2004) and Lana (born 2005). She worked with the Urich Fund for Sarcoma Research at the University of Michigan Comprehensive Cancer Center.
Heather died of brain cancer in Carrying Place, Ontario, Canada.
External Links