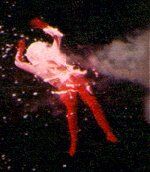 Last Day is the last day of a person's life, as prescribed by law.
Participants in last day are told that they will be renewed.
Runners are the rebels who choose not go to sleep shop or Carousel. Sandmen hunt down runners and terminate them.
Books
At age 21 in the novel, persons on Last Day report to a sleep shop.
Film
At age 30 in the movie, persons on Last Day must participate in Carousel.