Logan's Run Vehicles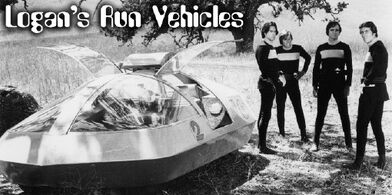 In the movie citizens transport themselves around the city in maze cars through transportation tubes.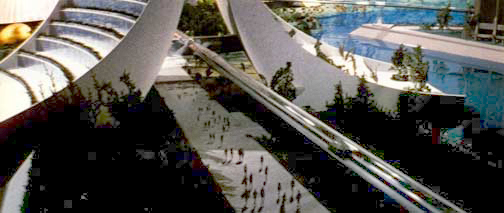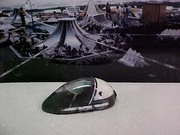 Outside the city in the TV Series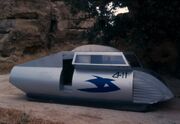 Solarcraft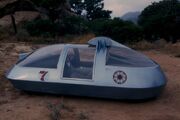 Sandman Ground Car
Logan's Run Cars
Of course the real stars of Logan's Run were the ultra cool vehicles which transported the Sandmen and the runners from location to location every week. The neeto vehicles were designed by Dean Jeferies Auto Styling (a neeto place to stop and peek through the fence when in Hollywood) Dean was responsible for a lot of the coolest movie vehicles.
Come to think of it the last time I was there the sandman car mold was still in out back. There were two Sandmen cars built for the TV series, though they only appear together in one episode. Originally they had planed to build a third Sandman 'groundcar' but when the series was cut short so was the order for a third car.

After production halted on the Logan's Run series these 'groundcars' popped up all over the place. In 1979 one showed up in an episode of CHiPs being driven way too fast by a lovely girl in a runner outfit. In 1981 one appeared as a Russian spacecraft in an episode of Showtime's Steambath transporting a dead Cosmonaut to the afterlife. When Otherworld appeared on CBS both the Ground Car and the Solar Car were used in the pilot episode. After the Ground Cars were restyled one appeared (painted cherry red) in a series of Pepsi commercials (modifications shown at the bottom picture on the page; car on the left (now painted white). All of the vehicles made and appearance in Ice Pirates. (which also has other Logan's Run props like Doc's operating table. Go rent it and see if you can spot all the old movie debris!) In Spaceballs one of the groundcars transports the princess and her android off the planet (modifications shown at the bottom picture on the page; car on the right). These vehicles have been in almost constant use in low budget movies (especially ones made by New Line Cinema)
The Solar Car even turned up in a video for Quiet Riot. And the Ground Car appeared in a Tom Petty and the Heartbreakers video (which is on one of their laserdisks in the fast speed).
On a episode of CHiP's about a 'chop shop' crooks were rounding up fancy cars. The episode starts when Ponch and Jon spot the DC Groundcar being driven by two runner girls running around the streets of LA. They follow them back to a auto body shop where Jon has a hard time making out the make and model on his ticket.
Community content is available under
CC-BY-SA
unless otherwise noted.